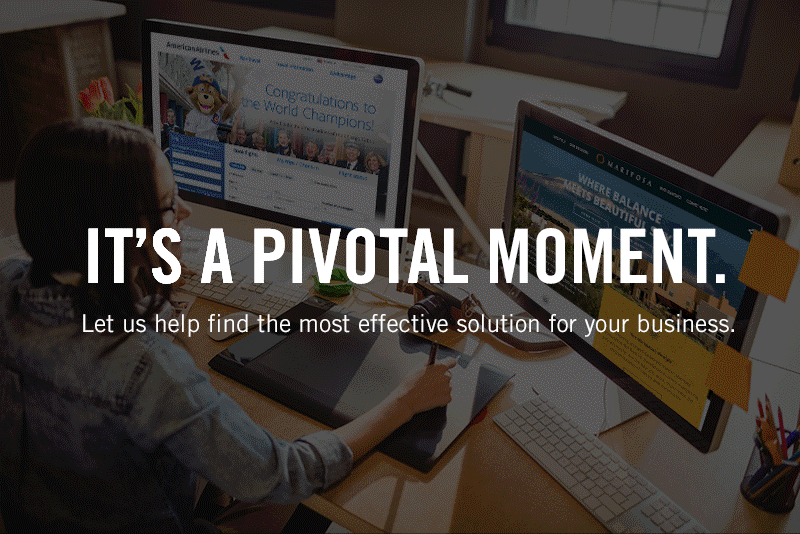 December 14, 2020
In
blog
Thinking more broadly about the ROI of your 2021 creative initiatives
Pivotal Moment.
Pivoting doesn't necessarily mean desperation. It can be a tool to discover additional growth – growth you might otherwise have overlooked. Businesses can grow beyond their initial dreams by re-imagining their assets and talents, thinking more broadly about the ROI of your creative initiatives.
We should all be thinking short-term survival along with long-term resilience and growth. Every business is unique. There's no one-size-fits-all solution for all businesses. Spikes in e-commerce including online retail, BOPIS (buy online, pick-up in store) and subscription services. With mobile phone use surging, more and more content is now geared towards short video. Let us help find the most effective solution for your business. Now let us tell you about Collective…
Our creative agency serves clients as small as start ups and as significant as American Airlines and other recognizable national brands across the country. Collective's capabilities include: websites, branding & identity design, e-commerce, print design, white label design, video production, analytics, PPC and copywriting services. Partnering with us allows you to expand, bring fresh perspectives and contract out your creative workforce at any given time, to control costs and deliver reliably, every time.
We want to earn your business and trust. What we are offering is a FREE virtual discovery session to kick off your next project.
***To schedule a meeting with us please click here.***
Let us be the tool you have overlooked.