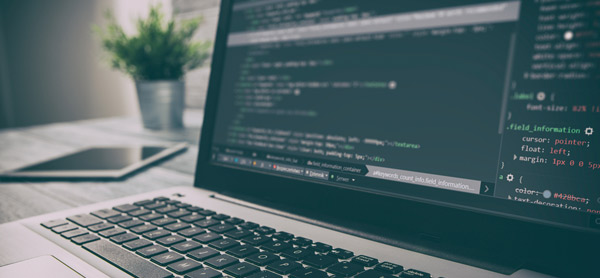 Why Hire a Web Design Agency vs. Using an Online Website Builder?
Why do people still hire web design agencies when there are website builders out there such as Squarespace and GoDaddy Builder?
Hiring a professional website design agency isn't cheap. The cost of working with a design agency can start at $4,500 and go up from there. So, why then would you pay so much money for a new website when you could use another service such as Squarespace or Godaddy and build a site for "free"?
The truth is, hiring a professional web designer or web development agency is not for everyone. If you're a new business without much revenue, then using an affordable website builder is exactly what you should be doing.
However if you own a small or medium sized business, using a "free" website builder could cost your company thousands of dollars in wasted man hours and even more money in the opportunity cost of lost potential revenue, and you end up with a templated, low-performing website.
In this post, we'll address who online website builders are best suited for; who would be better off hiring a professional web designer; and the advantages and disadvantages of doing either.
So the first question to answer is what exactly is a website builder?
A website builder is a tool that let's you choose the design of your website and then writes the code for you. Instead of having to know design fundamentals and knowledge of a design program like Photoshop, you can select from pre-made template designs. Instead of needing to know CSS and HTML coding languages, you are dependent on the website builder's pre-set functions and code. 
What does a website agency do and how is it different?
So what do you get when you hire a professional website agency? The short answer is it depends on who you hire. But assuming you hire someone good (like us), what a web designer or design agency brings to the table is much more than just delivering a great looking website.
First, a good web agency can take your vision and bring it into reality. They can take the idea that is stuck in your head or heart and turn it into a living and breathing site. If they're really good they will get an understanding of your business and your target market and tailor the design and structure of your site to funnel conversions to help generate more sales.
A good design agency can also help you have a unique design that sets you apart from your competitors. Today, all websites are beginning to look the same. Having a custom designed website can help your brand or business get noticed in a crowded space.
Who are website builders right for?
Should everyone hire a professional website agency? No. In fact, for many people it's the wrong move. If your "business" falls under one of these categories you should probably go with a website builder:
Hobby
If you're a hobbyist and looking to share your passion with others, you definitely don't need to hire a professional website designer.
Blogger
Unless you have a large blog with an established audience there is no need to professionally design your site at first. You focus on content first and design second. You can always improve your design later.
New Business or Unfunded Startup 
Do you have a new business or unfunded startup? You should probably just start with an affordable website builder. You have yet to prove the concept and you are better off just getting your idea out into the world to see if there is even a market for it. Once you have an established customer base and are generating revenue, then you can look into upgrading your site with a professional design.
Unproven Concept
Have a great new idea that you haven't tested yet? You should use a website builder to see how the idea is received. If it starts making money, then consider hiring a professional.
Small Non-profit
For small non-profit organizations that is high on passion and low on funds, there is nothing wrong with using a website builder for your organization. 
What's the deciding factor?
Bottom line, paying for a website should pay for itself. If hiring a web agency is a money losing proposition, stick with a website builder.
Who would be better off hiring a professional web agency?
If website builders like Squarespace and Wix are so affordable, why shouldn't everyone use them? If a professionally designed website could cost over $10,000 and a website builder costs $50/month, aren't you saving over $9,000 by choosing the website builder?
The answer is no. The reason is, it's not how much a professionally designed website costs – it's how much it will cost you and your business if you don't have a professionally designed, high-performing website.
Here is a look at who might be better off engaging with website agency:
Business generating over $200,000 a year in revenue
It's hard to put an exact number, in terms of revenue, for a business to have before getting a website. But it's safe to say that if your business is generating over $200,000 a year then you are probably leaving money on the table by not having your website professionally designed.
Local business in competitive industry
Do you own a local business that generates most of its business transactionally through people doing online searches? You are at a serious disadvantage if you don't have a professionally designed website. The SEO benefits alone are worth the cost.
Solo entrepreneurs generating over $150,000 a year in revenue
If you are a consultant, a real estate professional, a lawyer, accountant or any other solo business owner offering professional services, then you would probably be better off with a professionally designed website than going with a website builder.
High transaction value business
High transaction value businesses that generates $5k or more in profit per transaction would definitely be better of with a professionally designed site. By having such a high transaction value, if you could generate just one additional sale by having a better website then the investment would pay for itself.
Your website is an investment
As stated before, your website is an investment. And like any good investment it needs to generate a positive return. Meaning your new website should bring in more additional revenue, that you would not otherwise have gotten, than the cost of the website itself.
Pros and cons of a website builder
So now that we know who should be going with a website builder, let's look at the pros and cons of going with it.
Pros
• Affordable
The main benefit is the cost. For a minimum investment, you can have a website up in a few hours.
• Fast
You can have your new site up within a day using a website builder. When hiring a design firm it will typically take six weeks from kickoff to launch.
• Decent design
Many of the current website builders offer decent looking templates. But by using a template, your website will look the same as a thousand other sites.
Cons
• Not professionally designed
While many website builder templates look good, few of them really look great. You also won't have the benefit of someone who understands marketing and user conversions to help optimize the design of your site.
• Generic
There are a ton of people using the same templates and designs. Most website builder templates are all beginning to look the same giving them a generic look and feel. Potential customers are able to spot a template as well, which could decrease your website's effectiveness.
• Poor SEO
Most website builders have terrible Search Engine Optimization. They do not offer very robust tools when it comes to optimizing your website for Google. 
• Lost potential sales
The opportunity cost of lost potential sales have to be factored in when considering the cost of using a 'free' website builder.
• Frustrating
The user interface of these website builders are meant to be easy to use, but often they aren't. It can be frustrating to work within a rigid framework.
• Time intensive
What is your time worth to you or your employees? What else could you be doing to grow your business with that time? This needs to be factored into the true cost of a website project.
Pros and cons of a web agency
Still not sure whether or not you should hire a professional website designer? Here is a look at some advantages and disadvantages of going that route:
Pros
• Professional design
When you hire a website agency, your are hiring professionals. A team whose job it is to understand design best practices, fonts, colors, harmony and balance. They also have an understanding of user interface, information architecture and how design impacts visitor flow. 
• Unique design
All websites are starting to look the same because they all use the same templates. Hiring a website agency  allows you to have a unique and original design.
• Optimized for conversion
Most templates are not optimized for user conversions. They appeal to a broad number of user types and can't be designed to create a clear conversion path tailored to your specific user path. When hiring a good web agency, they will help structure the design in such a way that it is designed to optimize conversions – which means more leads and more sales.
• Search engine optimized
A good website agency should have knowledge of search engine optimization and be able to do keyword research, help identify the best keywords to rank for and make sure your site is tagged and structured to be optimized for those keywords. 
Cons
• Higher cost upfront
The main challenge with hiring a professional design agency, is pay the high upfront cost. If cash is tight this can especially be a problem.
• Longer time to develop and launch
Having a custom designed site built takes time. The development time alone can take 3-4 weeks, so expect to take about 6 weeks to have a professionally designed website. 
• Pricing differences
Talk to five different design agencies and you will get five different quotes. It can be a real challenge knowing what a good price is when hiring a web designer.
Conclusion
So back to the original question, web designer vs website builder? Which one is right for you? The bottom line is, the purpose of your website is to make money. Whether or not you should hire a website agency vs. using a website builder comes down to risk vs. reward.
If you aren't making much money or have an unproven concept, then you should probably go with the most affordable option available.
If you are making money, value your time or your employees time and feel that you are losing potential business by not having a professionally designed site, then you should hire a professional web agency.